Replacing All Teeth in Oak Lawn IL
While some patients opt for removable dentures, this option can be burdensome and cause sores along the gums. Another option for replacing a full set of teeth is a full-arch fixed bridge or a fixed hybrid bridge. These non-removable restorations are anchored to the jawbone by multiple implants. The process for placing the implants is similar to that of a single dental implant where our surgeon will carefully insert titanium "roots" in your jawbone. The number of implants will be determined during consultation with Dr. Haralampopoulos or other Health And Happiness doctors in Oak Lawn, IL after examining the condition of the bone in your mouth. Once the implants are placed, you will be fitted with a custom set of crowns or a fixed hybrid bridge that will be fixed to the implants. With proper oral hygiene, these fixed restorations can serve all of the functions of a natural set of teeth.
You may also be a candidate for implant-supported overdentures. Implant-supported overdentures are a full set of dentures that clip into place along your jawline to perform the appearance and function of natural teeth. Like the full-arch fixed hybrid bridge, the overdenture is supported by dental implants. However, the overdenture can be removed for cleaning and maintenance, but snaps into place for increased stability and comfort while eating, drinking, and speaking.
With proper care, fixed bridge dentures and implant-supported overdentures can provide permanent solutions to the problems created by multiple missing teeth.
Many patients have been previously told that they are not candidates for traditional dental implants because they lack sufficient bone. Do not be discouraged since there are many options available and many types of implants from which to choose Many patients are suffering every day with painful dentures and could benefit from dental implants that keep your teeth in!
Advantages of a full-arch fixed bridge or a fixed hybrid bridge: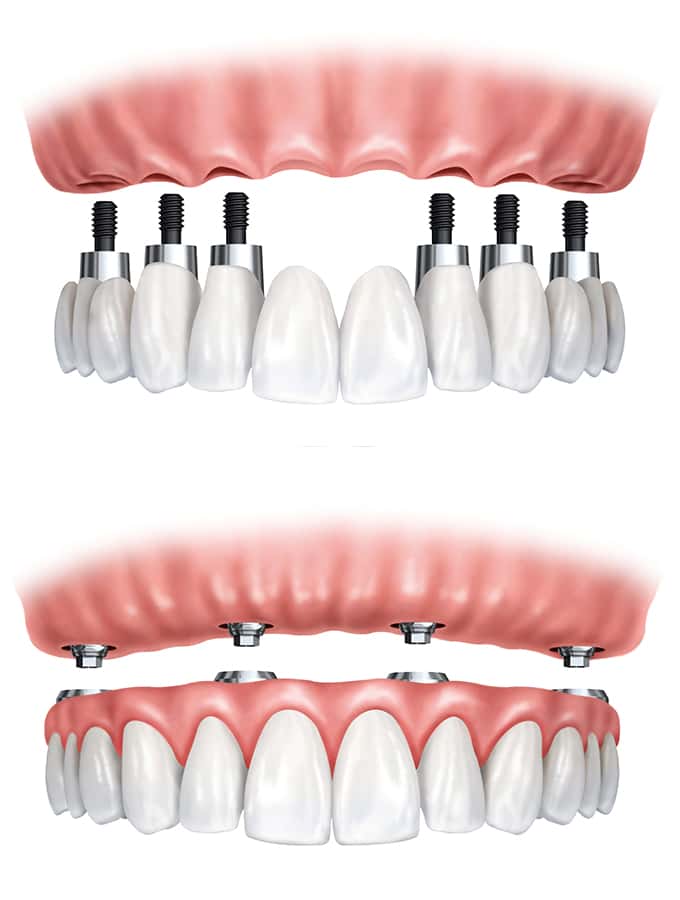 Teeth are fixed and cannot be taken out by the patient
Teeth function like natural teeth
Enable the patient to eat with increased bite force, thus allowing our patients to eat the foods they enjoy!
Teeth do not shift or move like traditional dentures and cannot fall out
Promote better jaw bone health and help stop bone loss
Do not trigger gag reflex like traditional dentures
Allow patients to taste their foods because their taste buds on the roof of the mouth aren't covered like traditional dentures
Do not require any sticky glues or pastes like traditional dentures
With proper care, full-arch fixed bridge, hybrids and implant-supported overdentures can provide solutions to the problems created by multiple missing teeth. Since there many options, upon consulation, the doctors at Health And Happiness will determine the most appropriate treatment approach. Please call our Oak Lawn or Darien office to make an appointment.